Warszawa, mazowieckie, PL
Opublikowana tydzień temu
Operational Risk OfficerBNP Paribas Securities Services is a wholly owned subsidiary of BNP Paribas specialising in the administration and protection of financial securities for institutional investors, financial intermediaries and major companies worldwide. We have local expertise in 36 markets and a global reach covering more than 90 markets.As leading global custodians, we serve a range of clients such as fund managers (including alternative funds), insurance companies, sovereign-wealth funds, pension funds, brokers and investment banks, commercial banks, major companies and issuers.The Warsaw office was established in 2008 and comprises two business lines:International Operations Centre (IOC) providing asset and fund services for a number of locations across Europe.Custody & clearing services offering broker-dealers, global custodians and investment banks a full clearing, settlement and custody solution in Poland and other markets. Responsibilities:
The main objective for this position is to ensure the proper implementation of the operational risk management framework for the global BNP Paribas Securities Services operations under it's expertize and coverage. The RISK ORM Officer acts as the 2nd line of defense and works closely with other RISK ORM teams, mainly the Central team.
The RISK ORM Officer will assist into putting in place an operational risk management framework for the business lines under its expertize – when applicable via independently challenging the business lines mainly by the execution of level 2 controls & providing an opinion on the effectiveness of the control framework.
Execution of level 2 controls & independent challenge and opinion on the effectiveness of the control framework
Risk identification, quantification (RCSA), constant monitoring
Follow-up on recommendations
Challenge remediation plans
Develop Risk awareness and mindset through trainings and sensitization: contribute to train business lines (with specific focus on new comers) on methodology and tools
Produce reports and statistics on key risk indicators
Handling meetings with the business and RISK Community
Requirements:
Fluent working knowledge of English is essential
Previous experience in Operational Risk or experience in Financial Operations
Attention to detail and accuracy
Good knowledge of MS Office (especially Excel, VBA would be an asset)
Excellent communication skills
Self-motivation and willingness to learn
Ability to work effectively as a team player
Client (senior stakeholders) focused approach
Willingness to take on new challenges and look for enhancements in existing processes
Our offer:
Stable employment, with full-time job contract
Six Career Paths to choose from
Complex on boarding and induction programme
Trainings, co-financed language courses, professional certifications and post-graduate studies
Flexible working system, 50% working from home
Private medical package
Life insurance
Employee Pension Plan
Sports Card
Lunch Card
Cafeteria Platform
Modern, eco-friendly office located near Metro Daszyńskiego station
Attractive benefits package:
private medical care
life insurance
sports card
additional benefits to choose from the Cafeteria Platform
lunch card
co-funding of language courses and many more
BNP Paribas promotes equality of opportunity and is committed to ensuring that no individual is discriminated against on the grounds of age, disability, gender reassignment, marriage or civil partnership status, pregnancy and maternity, race, religion or belief, sex or sexual orientation.Please attach the below clause to your application:
I hereby give consent for my personal data included in my application to be processed for the purposes of the recruitment process under the Regulation (EU) 2016/679 of the European Parliament and of the Council of 27 April 2016 on the protection of natural persons with regard to the processing of personal data and on the free movement of such data, and repealing Directive 95/46/EC (General Data Protection Regulation) introduced into the Polish law with Data Protection Act of 10 May 2018 (Dz. U. 2018 poz.1000 as amended). I acknowledge that I have the right at any time to view, to amend or correct and to request to erase my personal data.
Find us on:
Get to know more about us on:
www.joinbnpparibas.pl
See you soon :)
BNP Paribas Securities Services S.K.A. Oddział w Polsceul. Wronia 31, 00-846 Warszawa

Idealne CV dla stanowiska Operational Risk Officer przygotujesz w 5 minut.
Użyj naszego
kreatora CV
i otrzymaj oferty pracy dopasowane do Twojego doświadczenia.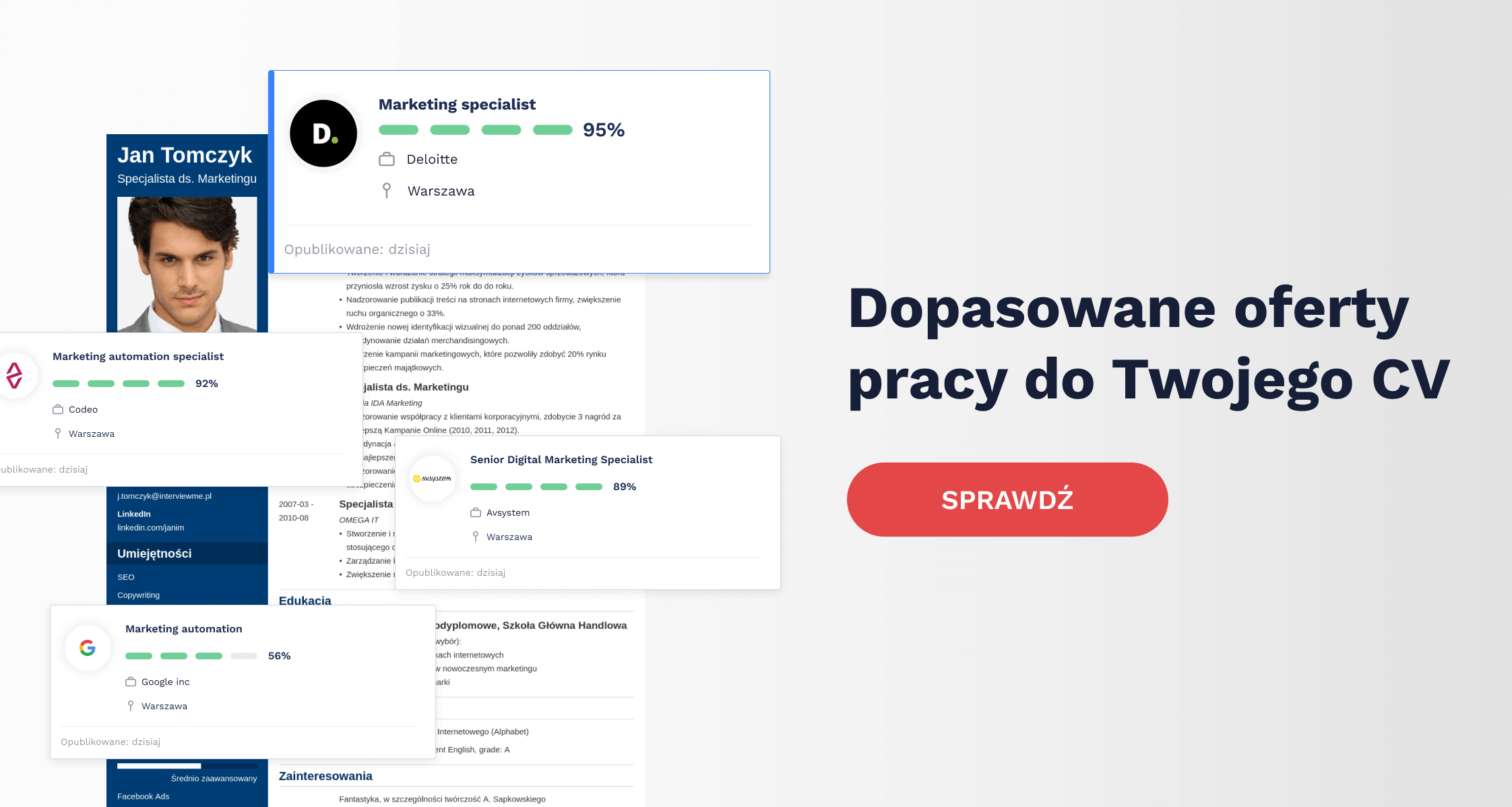 Aplikuj