Szczecin, zachodniopomorskie, PL
Opublikowana miesiąc temu
Azure (regular)
AWS (regular)
Our people love the exciting and meaningful work they do, the cutting-edge resources and technology they have access to, the benefits we offer and the great community we've built. Want to join them?Project Overview:
Kainos' customer is a FinTech start up with heavy backing, both financially and from across their target industry. Their vision is to build an on-demand service to replace an old and ineffective system which their target market all has deployed on premises. The core functionality will be commercial software, similar to that currently deployed on premises.Kainos are building all of the surrounding services: infrastructure as code, message handling, data handling and persistence, analytics, operations, orchestration, integration with customers, and a whole lot more.This is Kainos' largest commercial sector project – and will really put us on the map: multi-million Euro deal, multiple years of ongoing development and service. A chance to be build something that changes an industry!
We work fully remotely in Kainos
but we might require you to visit our Gdansk office occasionally for team activities or company events.As a Data Technical Architect in Kainos, you'll be responsible for designing and delivering technical components as part of a larger data solution. You will work closely with Solution Architects and Customer Architects to integrate these components into quality data solutions
Your responsibilities will include:

Successfully implementing functional and non-functional designs.
Working closely with customer architects to agree functional and non-functional designs, including estimated effort, technical implications, and complexity.
Setting technical standards and works with engineers to ensure standards are upheld.
Managing and estimating timelines underpinning technical component delivery.
Contributing or owning technical solution design as part of a pre-sales process.
Making a significant contribution to the data analysis community and wider data and analytics capability.
Managing, coaching and developing a small number of staff, with a focus on managing employee performance and assisting in their career development. You'll also provide direction and leadership for your team as you solve challenging problems together.
Minimum (essential) requirements:

Experience of technical ownership for a component, sub-system or product (data ingestion, data streaming), including architecture, estimation, product planning and story creation.
Proficient in client interaction including communication of technical decisions to non-technical audiences.
Experience of applying standards for design (patterns), development (style guides), and operational readiness (automation, deployment).
Experience of designing, building and productionising modern, distributed data-intensive applications.
Experienced in Java, Scala or Python and comfortable with multiple programming paradigms (functional, OO).
Experience of deploying contemporary data stores such as object stores, document stores, key-value store, search, RDBMS, graph.
Software development experience with data-processing platforms from vendors such as AWS, Azure, GCP, Databricks.
Comfortable with data integration techniques such as messaging, queuing, change data capture or data virtualisation.
Desirable:

Comfortable with Data Warehouse methods and techniques.
Actively shares their thoughts and views on data practices.
AWS/Azure/GCP Certified in Data Services.
Expertise in continuous improvement and sharing input on data best practice.
Participation in development and/or technology communities..
What we offer:

Company share scheme plan.
Private medical insurance at Medicover.
Multisport card.
Group life insurance.
3000 Pounds for refer-a-friend scheme.
Reimbursement of the costs of purchasing a chair and desk to be used in the home office.
Access to Pluralsight online training.
Core hours (starting work between 8 am and 10 am).
WHO YOU ARE:
Our vision is to enable outstanding people to create digital solutions that have a positive impact on people's lives. Our values aren't abstract; they are the behaviours we expect from each other every day and underpin everything that we do. We expect everyone to display our values by being
determined
in how obstacles are overcome;
honest
when dealing with others;
respectful
of how you treat others;
creative
to find solutions to complex problems and
cooperative
by sharing information, knowledge and experience. These values, applied collectively, help to produce an outstanding Kainos person, team and culture.
Idealne CV dla stanowiska Data Technical Architect przygotujesz w 5 minut.
Użyj naszego
kreatora CV
i otrzymaj oferty pracy dopasowane do Twojego doświadczenia.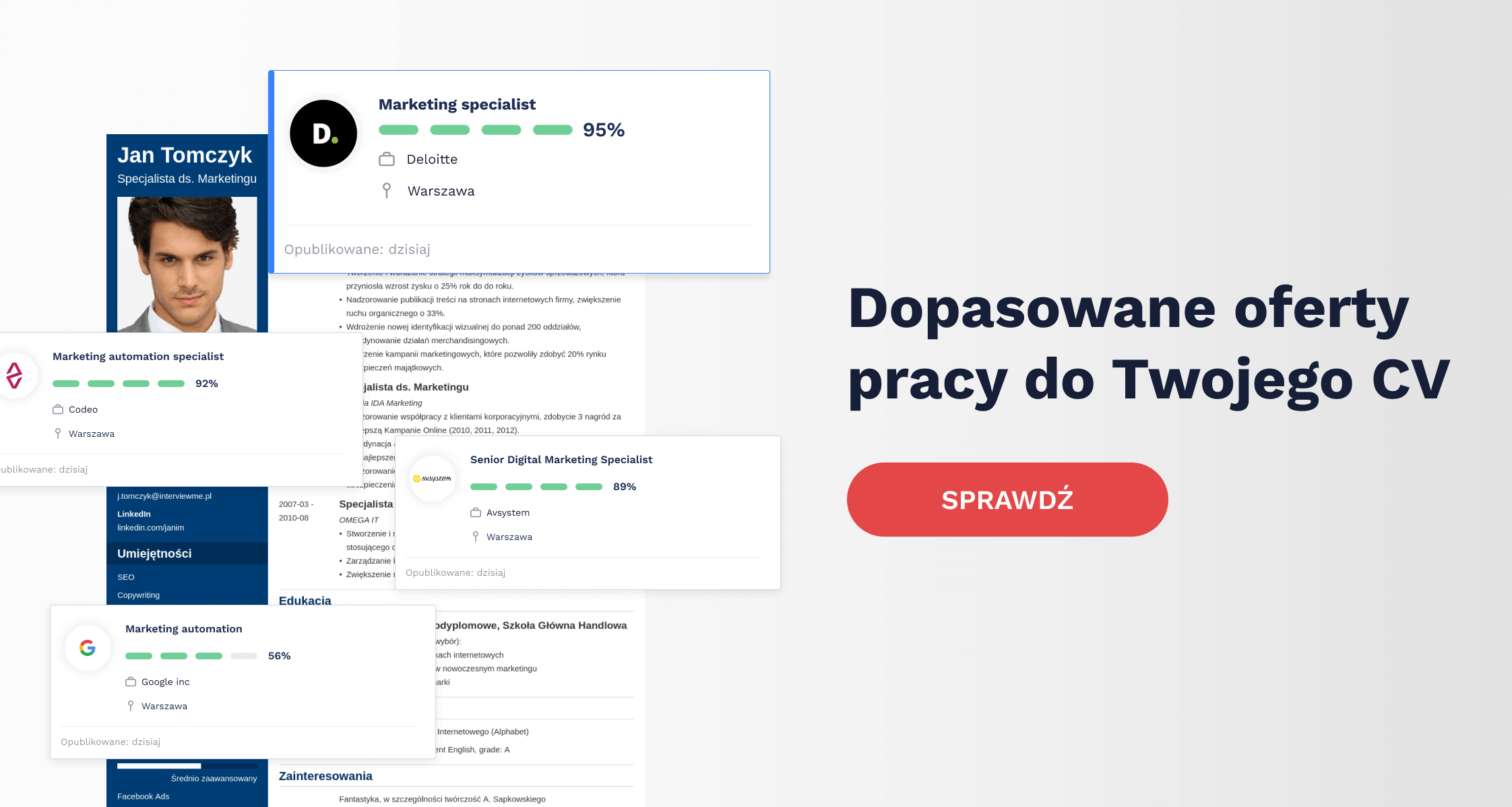 Aplikuj