AML Transaction Monitoring Technology Manager, Financial Crime Unit
AML Transaction Monitoring Technology Manager, Financial Crime Unit
Gdańsk, Trójmiasto, PL
Opublikowana 3 dni temu
PwC is a powerful network of over 250.000 people across 158 countries. All committed to deliver quality in
Assurance, Tax, Advisory & Technology services.
Match your curiosity with continuous opportunities to learn, grow and make an impact. Join PwC and be a game changer.
PwC Poland's Financial Crime Unit ("FCU") is uniquely equipped to assist our Clients in overcoming these challenges through innovation and collaboration. The FCU's Process stream helps clients transform their Anti-Money Laundering ("AML") framework by executing strategies to reduce operational complexity through streamlined processes and technology optimisation.
AML Transaction Monitoring Technology Manager, Financial Crime Unit
The role
Design and develop analytical solutions for suspicious activity detection in Transaction Monitoring systems. Propose ways of monitoring efficiency of Transaction Monitoring rules.

Monitor and optimize developed analytical tools and implement adjustments according to stakeholders requirements, coach analysts in fulfilling complex tasks.

Manage a team of consultants and work across a variety of domains within Financial Crime Unit Client engagements.

Lead teams on client assignments from identifying creative but pragmatic options against potential market scenarios, developing conclusions, making strategic recommendations, and then preparing development plans to operationalize the agreed upon strategy.

Conceptualize and develop client-ready deliverable materials independently with clear logic from multiple perspective angles (i.e. client, processes, technology, etc).

Identify key insights from analyses, interviews, discussion and other sources, build a business case, evaluate an opportunity, and construct a presentation to demonstrate solutions to Client's executives.

Active participation in the global PwC network, e.g. build a collaborative network with other PwC member firms in order to share knowledge and provide a truly global perspective for our Clients. There is also opportunity for business travel, subject to the Client engagement.
Candidate's profile
Must have:
Master's degree (preferred in Statistics, Econometrics, Mathematics, Computer Science, Big Data, etc.)

5+ years in SME or managerial position in an international environment

Experience in model development process, detection scenario setting process, tuning and optimization process, threshold setting process.

Expert skills in driving cooperation with multiple senior stakeholders, experience of building business cases, excellent presentation skills.

Proficient knowledge of MS Excel/Google Sheets, MS Visio and MS PowerPoint/Google Slides, including the ability to prepare structured & story-driven presentations.

In-depth understanding of the financial services industry (e.g. business and operating models, products and services; culture and communication style).

Excellent written and spoken English
Nice to have:
Experience in data querying technologies (e.g. SQL) and programming languages (e.g. VBA, Python, R)

Good knowledge of data visualization/dashboarding technologies (e.g. Tableau, Power BI)

Proficiency in big data analysis using complex transactional databases

Related certifications (CAMS, ICA or similar) preferred

Previous experience in a consulting role with high client exposure, preferably in a leading consulting firm.
We offer
Possibility to work in a hybrid model - remotely and in our office in Gdańsk or Warsaw.
Unlimited opportunities to develop further your professional growth in a variety of competencies, with the support of a dedicated coach.
Participation in design and implementation of new products and services that leverage cutting edge technology
Opportunity to broaden your professional experience by delivering complex and innovative technology / data analytics consulting projects
Work in an international team providing services to leading global financial institutions (based in Europe, US, Asia and Africa)
Potential for business travel opportunities for those candidates who are keen to increase their exposure to international markets.
A supportive and open-minded team, promoting a healthy and balanced working culture.
Collaboration with high profile, ambitious professionals
A competitive remuneration package and benefits that ensure our team is rewarded for their contribution to our success.
PwC Advisory spółka z ograniczoną odpowiedzialnością sp.k. or another PwC entity which runs a recruitment process - list of entities: https://www.pwc.com/gx/en/about/office-locations/poland.html, with its registered seat in Warsaw (00-633), Polna 11 Street, ("PwC" or "we") will be the controller of your personal data submitted in your application for a job. Your personal data will be processed for the purpose of performing a recruitment process for the job offered. If you give us explicit consent, your personal data will be also processed for participation in further recruitment processes conducted by PwC and sending notifications about job offers in PwC or job related events organized or with the participation of PwC such as career fair. A full information about processing your personal data is available in our Privacy Policy.
Idealne CV dla stanowiska AML Transaction Monitoring Technology Manager, Financial Crime Unit przygotujesz w 5 minut.
Użyj naszego
kreatora CV
i otrzymaj oferty pracy dopasowane do Twojego doświadczenia.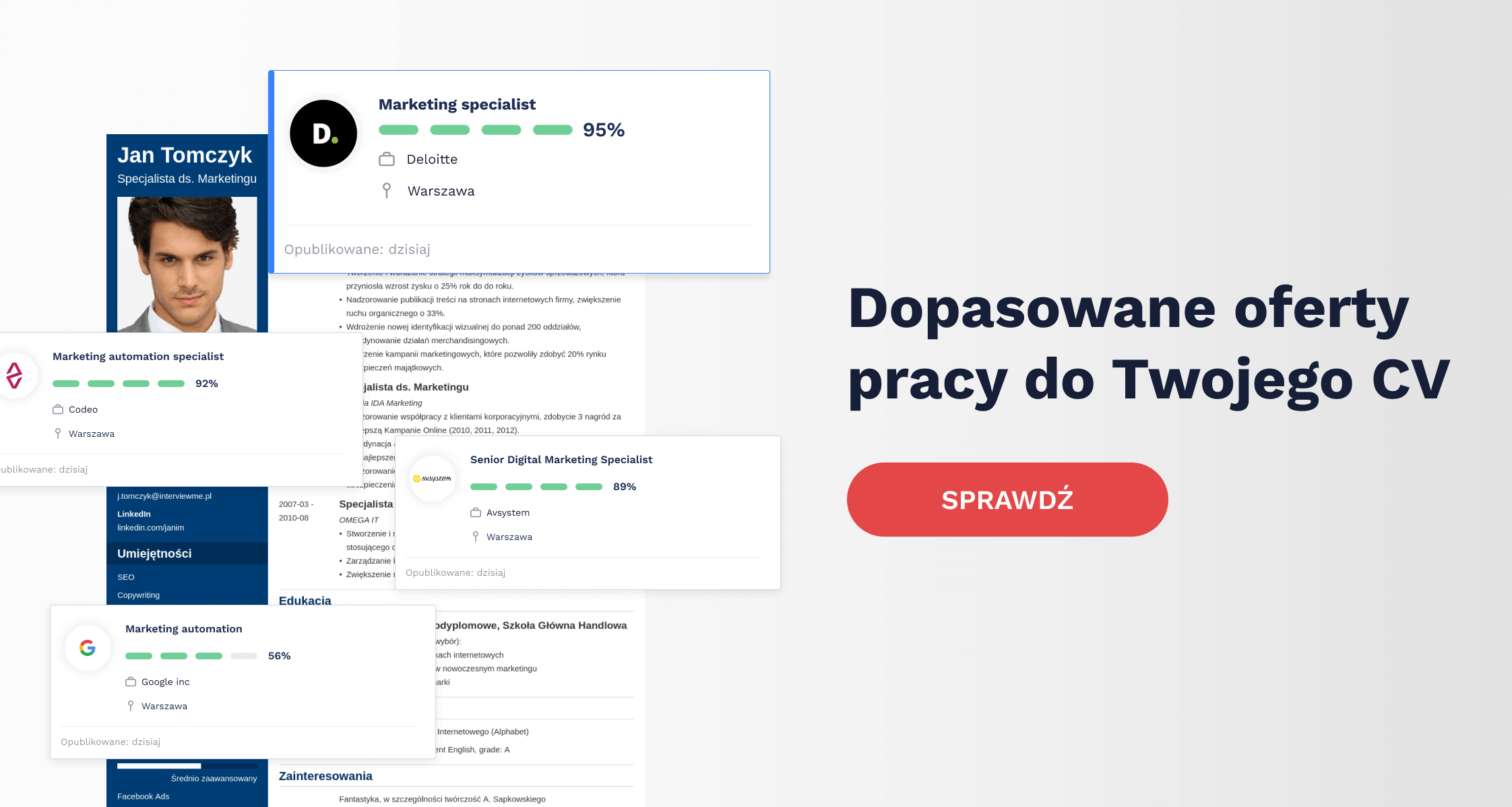 Aplikuj